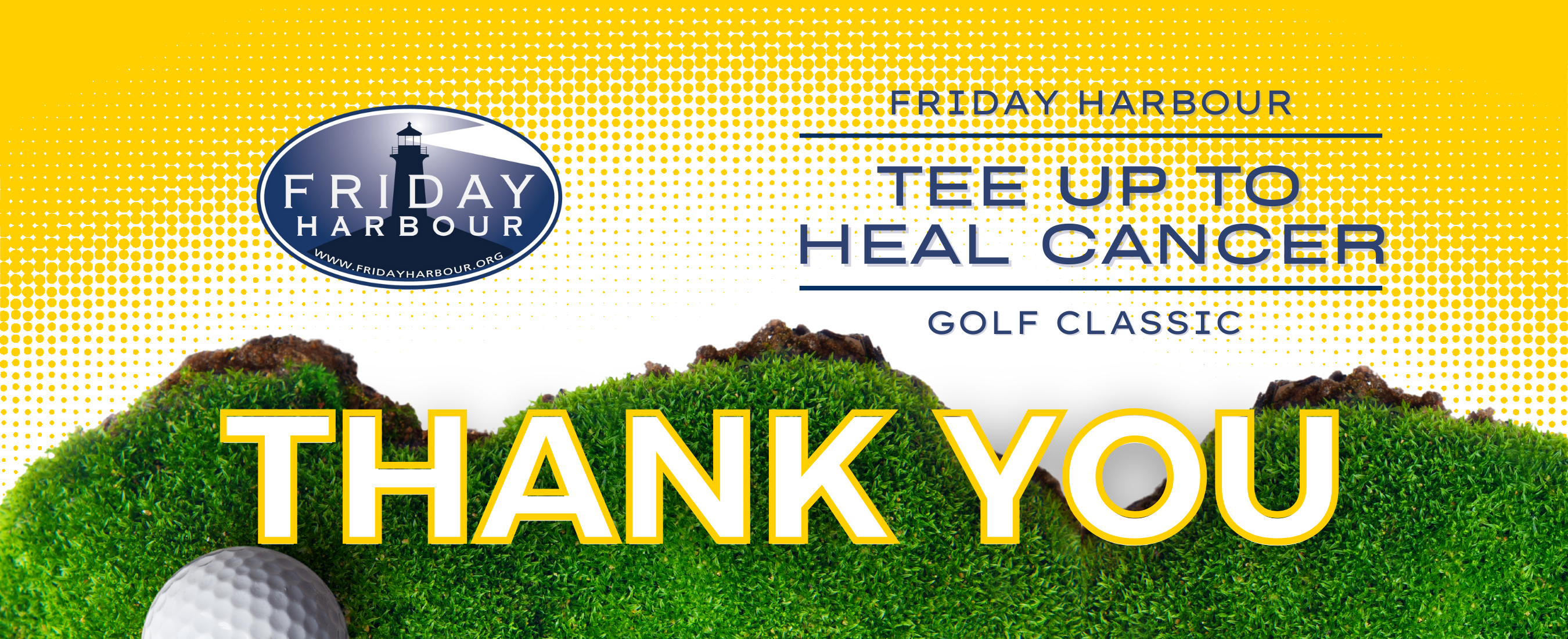 On behalf of the children, families, and individuals impacted by Friday Harbour's Cancer Patient Lodging Program, we thank everyone who supported the Tee Up to Heal Cancer Golf Classic on May 16, 2022, at Tour 18 Golf Course. The event raised more than $20,000. Proceeds will ensure that patients receiving cancer care at MD Anderson Cancer Center, including supporting family members, are provided with a free hotel stay at the Holiday Inn Express and Suites NRG/Medical Center Area.
We are deeply thankful to John G. Reyes, Golf Tournament Chair, and the Board of Directors. Their time, talent, and expertise helped ensure we had a successful event. Furthermore, we want to thank our dedicated volunteers who worked tirelessly the day of the tournament.
Special thanks to these incredible sponsors: Partner Sponsor MD Anderson Cancer Center; Tee Sponsors Highland Threads, Holiday Inn Express and Suites NRG/Medical Center Area, Stallion Roofing and Solar Solutions, and Whitley Penn; Breakfast Sponsors The Cheryl Watkins Snead Foundation and Go For The Greens; Friend Sponsors Comflow Mechanical Services, Monte Meave, Morales Foundation, and Sam Sprouse; Award Sponsor MetroMarketing; Printing Sponsor Alliance Reprographics; Photographer Sponsor Dalton DeHart Photographic Foundation; and Supporters Aaron Keys & Associates Inc., Clint Akin, Ambriza Social Kitchen, BeaKon Productions, Ken Beaman, Travis Bruns, Dean Burden, Fred Costa, Davis Mountain Health, EA1 Chemical Solutions, EEPB, Energy Industry Support International, Fitzpatrick Group, Hotaling Insurance Services, Icon Consultants, InfoLink USA, Inc., Last Frontier Roofing & Construction, The, Judge Maggie Creative Studios, Eddie Mendoza, Johnny Montemayor, Deborah Neville, Bob Nichols, John G. Reyes, John Reynolds, R&L Global Inc., Eloy Saenz, Tejas Office Products, TORCHY'S TACOS, Tour 18 Golf Course, and World Commerce Forwarding.
The tournament's success is due to great sponsors, golfers, volunteers, and our host Tour 18 Golf Course. We look forward to seeing you next year on the greens!
Thank you to Dalton DeHart Photographic Foundation for donating your photography services. Please enjoy pictures from the event and consider making a donation to the Foundation for their support. Link to Photo Album.
—
Friday Harbour is excited to announce that this year's golf classic, Tee Up to Heal Cancer, will take place on Monday, May 16, 2022. We are honored to welcome Golf Chair, John G. Reyes with World Commerce Forwarding, Inc. Join us for a wonderful day of golf at the Tour 18 Golf Club. Your support will ensure that patients receiving cancer care, including supporting family, are provided with a FREE hotel stay. From the initial tee-off to the final putt, you will be contributing to their rest and recuperation during their cancer journey.
Tour 18 Golf Club
3102 Farm to Market 1960 E. Humble, TX 77338

Schedule: Registration at 7 am. Shotgun start at 8:00 am. Four Person Scramble.
An awards lunch will follow the golf tournament.

Registration deadline: May 2, 2022

Your sponsorship, foursome or individual ticket includes green fee, cart fee, practice range, breakfast, and lunch.
It's easy to support the golf classic! Register online…
…or download the registration form, fill it out and mail or email it to us.
Registration questions, please email Juan Ortiz, Event Manager, by email (juan@juanevents.com).
Sponsorship Opportunities
$15,000 Title Sponsor
Company spokesperson to speak about the services they provide cancer patients
A display table to promote the company
Name and logo recognition on all promotional materials as the title sponsor
Recognition in our Newsletters
Highlighted event signage and extensive verbal recognition, including company logo on golf cart signage
Full page program ad provided by sponsor
Year-long recognition on the FH website
Opportunity to provide promotional items for golfers' gift bags
Four (4) Teams of 4 players
VIP table
$5,000 Lunch Sponsor
Half page program ad provided by sponsor
Year-long recognition on the FH website
Opportunity to provide promotional items for golfers' gift bags
Four (4) Teams of 4 players
VIP table
$1,500 Tee Sponsor
Company name displayed on tee at the event
Name listed on sponsor sign displayed at tournament
Listing in tournament program
Opportunity to provide promotional items for golfers' gift bags
ONE (1) Teams of 4 players
$1,500 Breakfast Sponsor
One (1) Team of 4 players
Breakfast signage
$1,000 Partner Sponsor
One (1) Team of 4 players
$200 Hole Sponsor
Hole Signage
$600 Foursome
$150 Individual